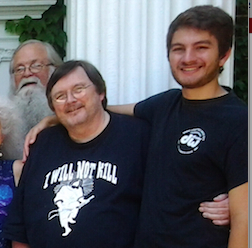 The Fellowship of Reconciliation is in mourning today at the news of the sudden death yesterday, Dec. 11, of Reverend Sam Smith, a Brethren minister, multimedia artist, and FOR leader in countless capacities. Sam, whose 64th birthday was this past Sunday, Dec. 7, was a creative and pastoral grassroots activist who advocated passionately for youth and young people and against militarism and war.
It is nearly impossible to identify the number of ways that Sam volunteered in FOR and the wider peace movement, despite enduring long-term chronic pain, multiple back surgeries, and compromised health.
At the local level, Sam Smith was convener of the Chicago FOR chapter, which in recent weeks hosted events related to the Ferguson Movement (with a young chapter member having just returned from St. Louis, photo below) and Latin America solidarity (with Javier Barrera, a human rights activist from Medellin, Colombia).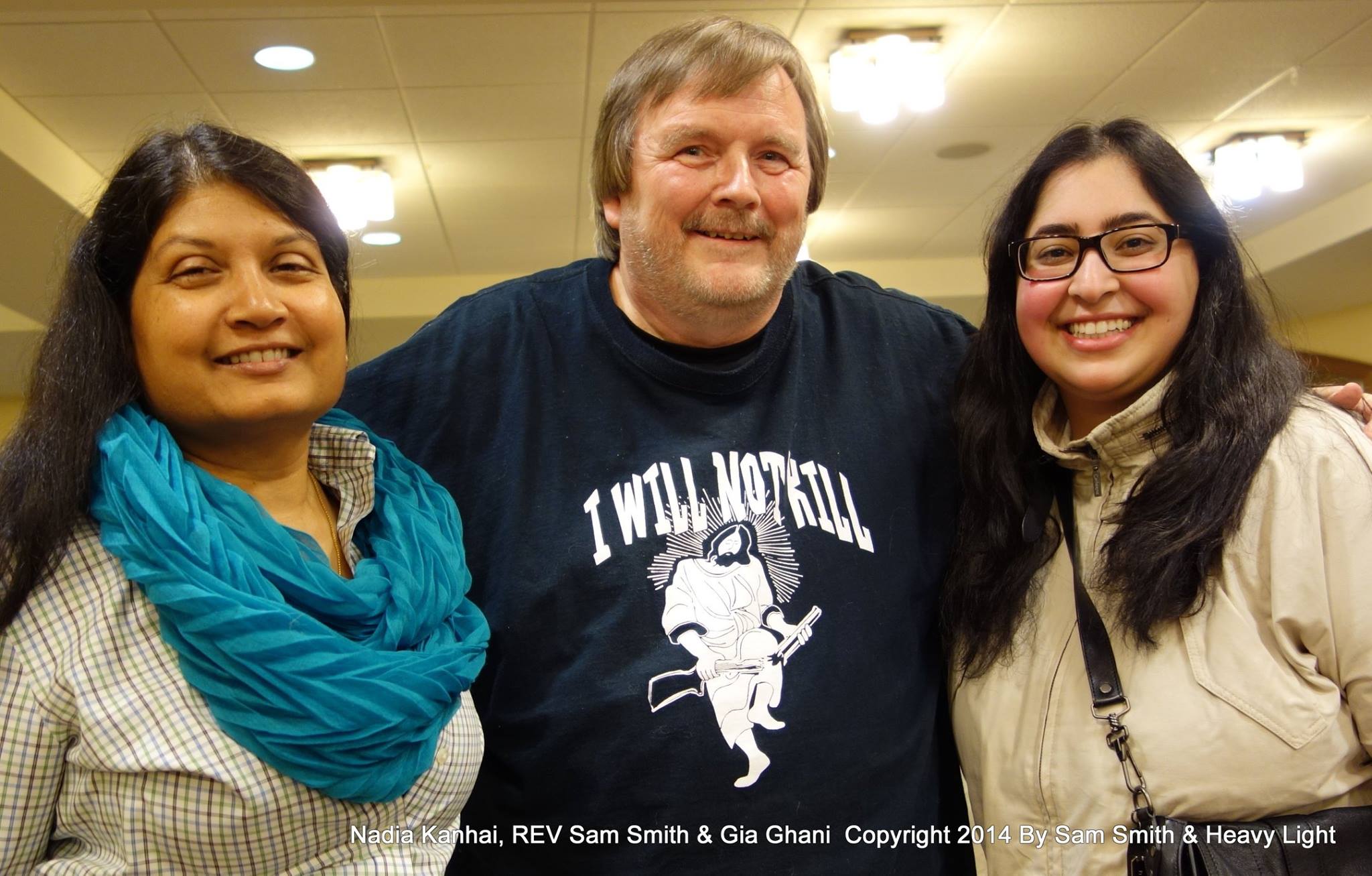 Sam worked with several churches in the greater Chicago region and helped the West Suburban Faith-based Peace Coalition become a formal affiliate group of FOR in October 2014. He also related to DePaul University's service learning program (photos below), helping undergraduate students identify social justice-centered learning opportunities to fulfill their academic requirements.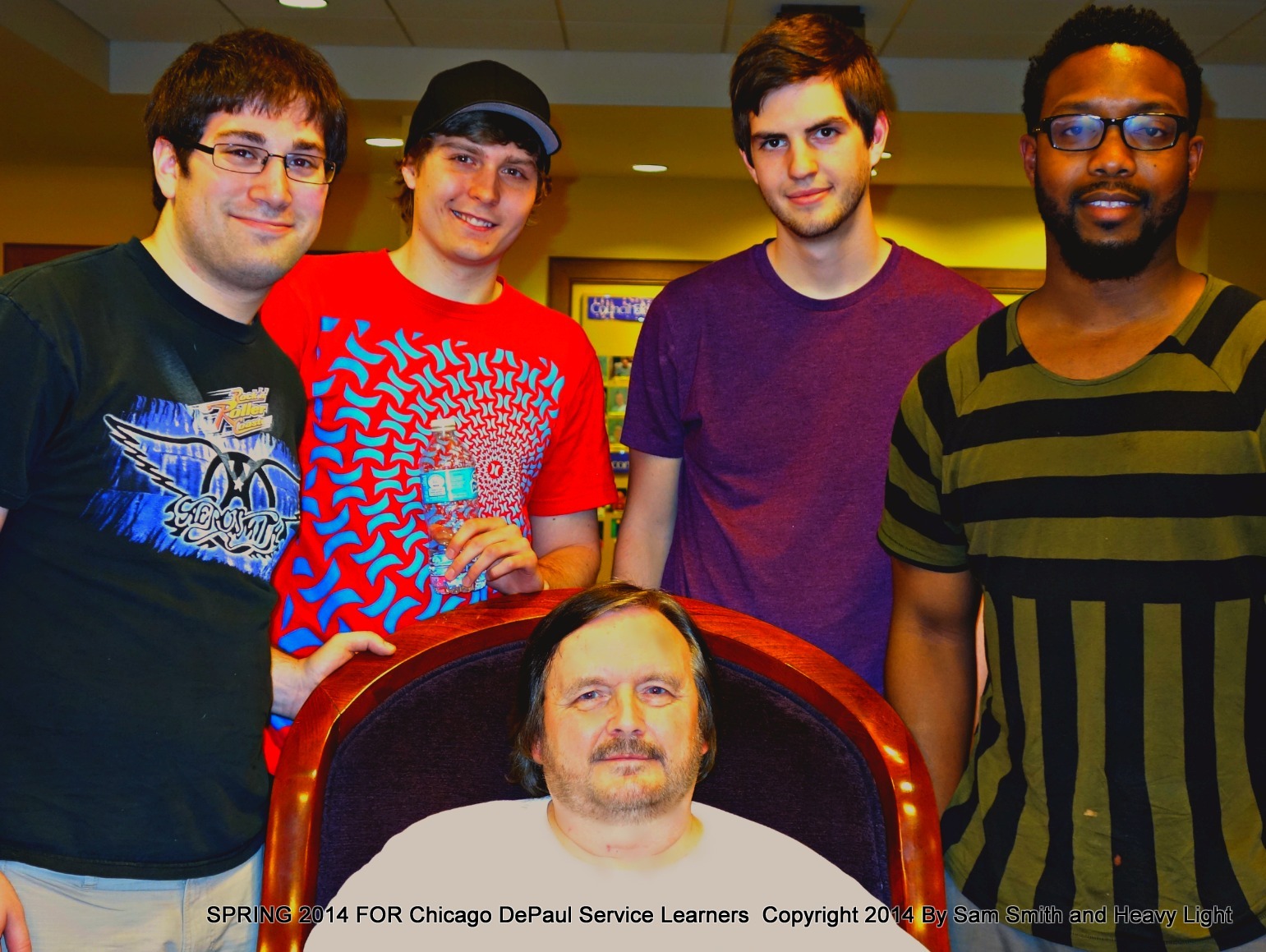 Nationally, Sam was a member of FOR-USA's National Council (NC) for most of the past decade, and often brought his teenage children with him to NC meetings, diversifying the space and conversations. He was very active on FOR's Centennial planning committee and had been chairing a subcommittee working on two national conferences in mid-2016.
Shaina Adams-El Guabli, a fellow NC member, writes, "it is so rare to meet someone who is so passionate, dedicated and kind. Sam exuded kindness. He has been such a dear friend over the years, and I have always been so grateful to him for treating me as an equal and taking me under his activist wings, especially when I first joined the NC back in 2006 as a young woman. He has always been such an advocate for youth empowerment."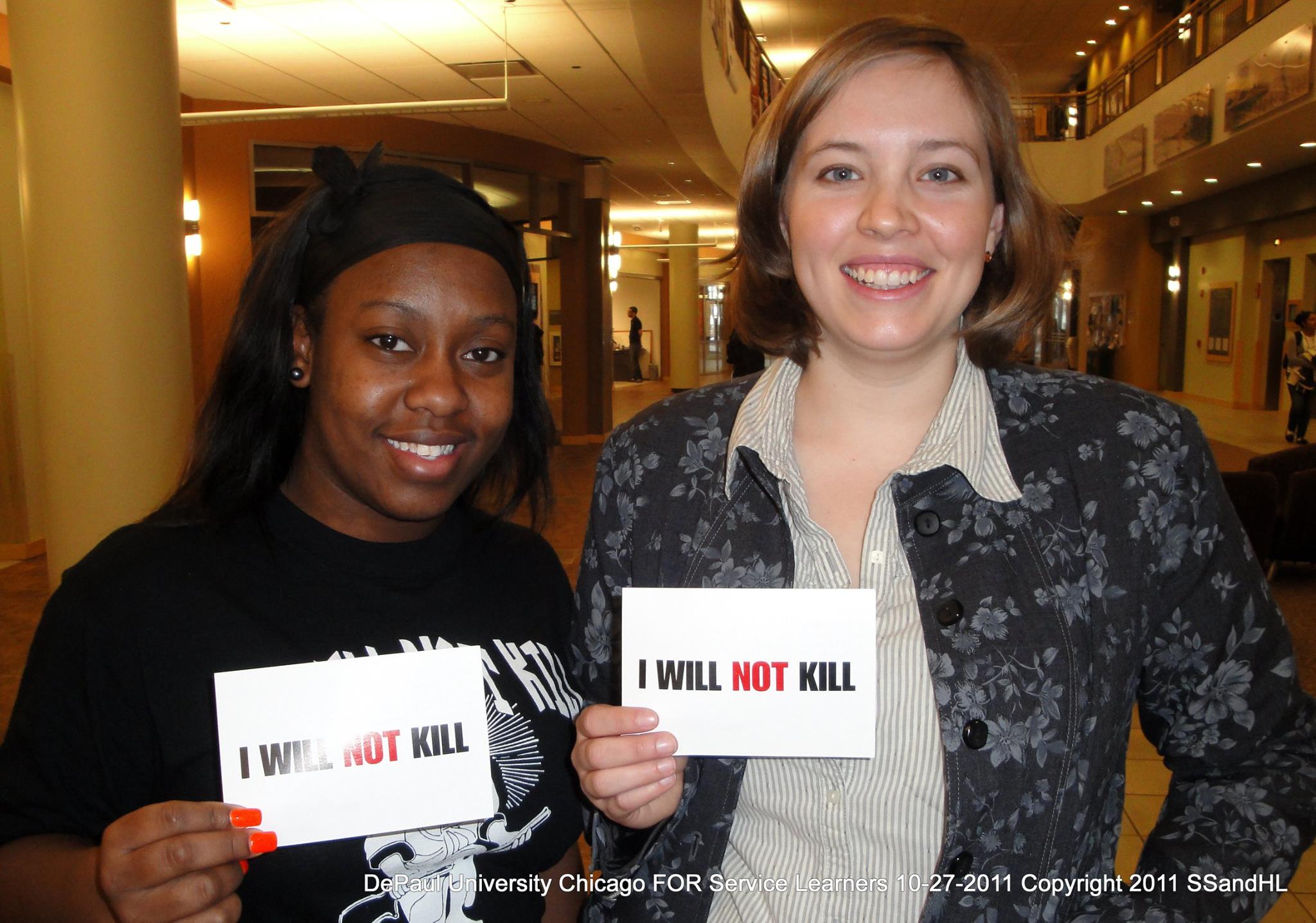 Sam was well known for his counter-recruitment activism in response to U.S. Armed Forces recruitment efforts; this summer he joined the steering committee of the National Network Opposing the Militarization of Youth (NNOMY) and for many years he tirelessly reached out to teenagers and young adults on behalf of FOR's I Will Not Kill campaign.
As an ordained Christian minister, Sam took seriously his gospel mandate. In 1968, after serving as a teenage summer missionary in Medellin, Colombia and being faced with the extreme poverty in that country, he founded Heavy Light Productions as a multimedia ministry to preach Christ's message for radical peace and social transformation.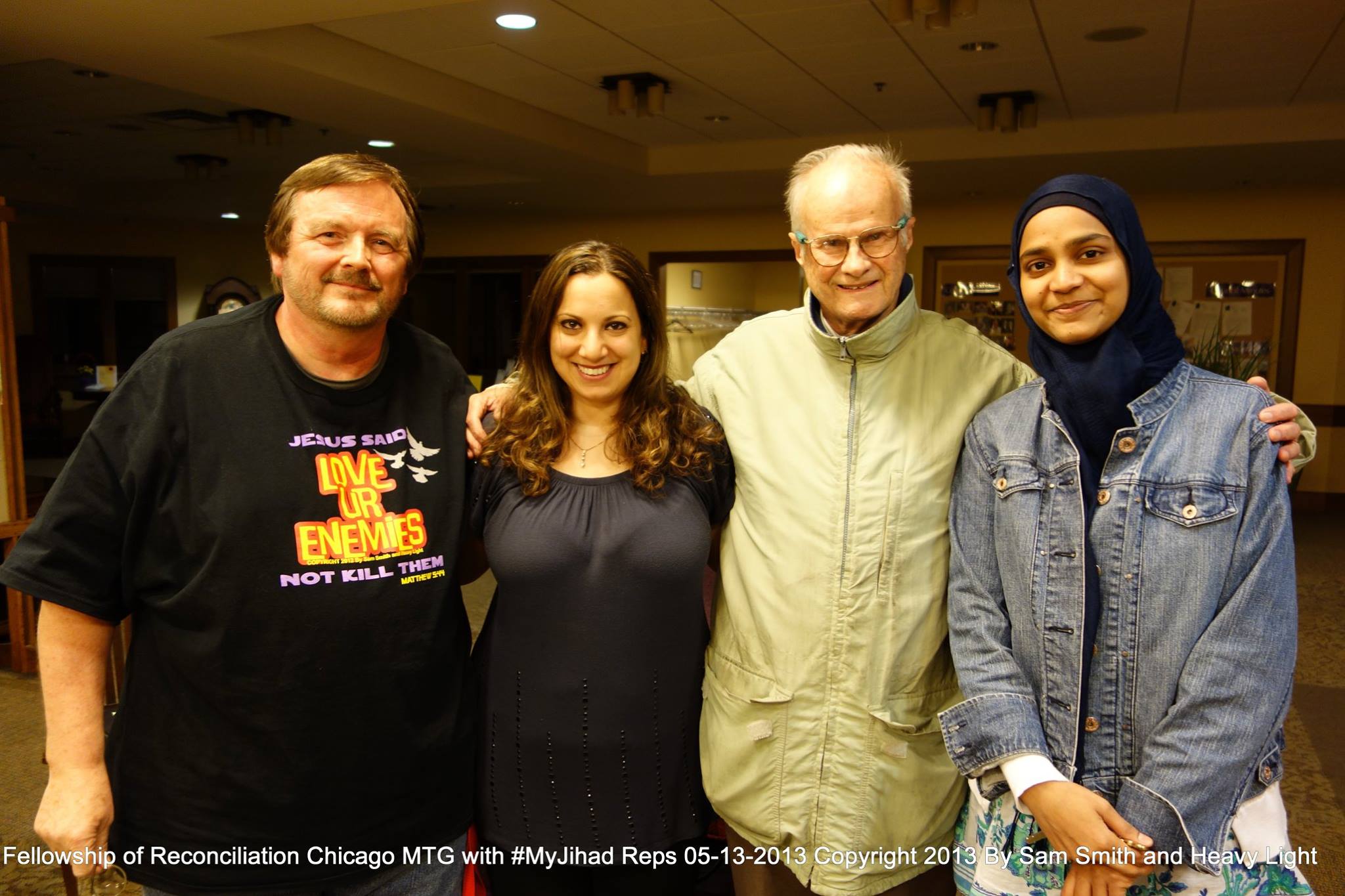 Reaching through and beyond his roots in one of the "historic peace churches," Sam found that many were receptive to this invitation; and he welcomed interaction with people of all political and social backgrounds. Never one to simply preach to the progressive choir, Sam regularly set up tables at conservative or unusual Christian spaces, including the annual Cornerstone Music Festival. This fall he joined the new On Earth Peace Racial Justice Strategy & Research Team to help develop an anti-racism process within the Brethren community.
Sam's death is an immeasurable loss to the peace movement. Please hold his family, especially his widow Linda and children Lia and Luke, in your prayers. A wake will be held this Sunday, Dec. 14 from 2:00 to 7:00 p.m. at the Williams-Woodward Funeral Home, 820 Pine St., West Chicago, IL 60185. We invite your reflections and testimonies to Sam's life and legacy on FOR's website or Facebook page.
In sorrow,
FOR Staff and National Council
Photos: (1) Sam and son Luke at June 2014 FOR National Council meeting, Nyack NY (NC member Jim Murphy in background); (2) Sam flanked by Nadia Kanhai and Gia Ghani at October 2014 Chicago FOR meeting, following report-back on Ferguson Movement; (3) With DePaul service learners tabling on behalf of I Will Not Kill campaign, spring 2014; (4) DePaul service learners promote I Will Not Kill campaign in 2011; (5) With Chicago FOR and Council on American-Islamic Relations member discussing Islamophobia at May 2013 meeting.